Create a free account and download!
OwnTheCards does not contain ads.
INSTRUCTIONS:
Complete the registration form below
We will e-mail you OTC download link (if you don't already have the program) and account details
Start downloaded file (SetupOTC.exe) and follow the instructions
Play with your friends as much as you like and please remember to send us your feedback : bug reports, comments, requests...
FILL OUT THE FORM FOR 100% FREE OTC ACCOUNT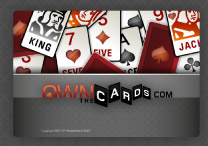 We at OwnTheCards hope you are going to enjoy the game as much as we've enjoyed making it.
Please send us your feedback, tell us how you liked your OwnTtheCards experience and if there's anything we could improve.
Good luck and have fun!
Another website to take advantage of is a European website called piramind.com. They have a large list of poker promotions and is updated often.